Cloth Roll Towels
We here at Domestic Uniform Rental believe that our customers deserve the market's best products and services to complete the task at hand. In our business we take pride in our products. We provide cost-efficient, sanitary, and effective products. One of the products we are strong proponents of is the Darman Endura II Cloth Roll Towel System. This product provides an easy, efficient, and effective solution to your hand drying needs.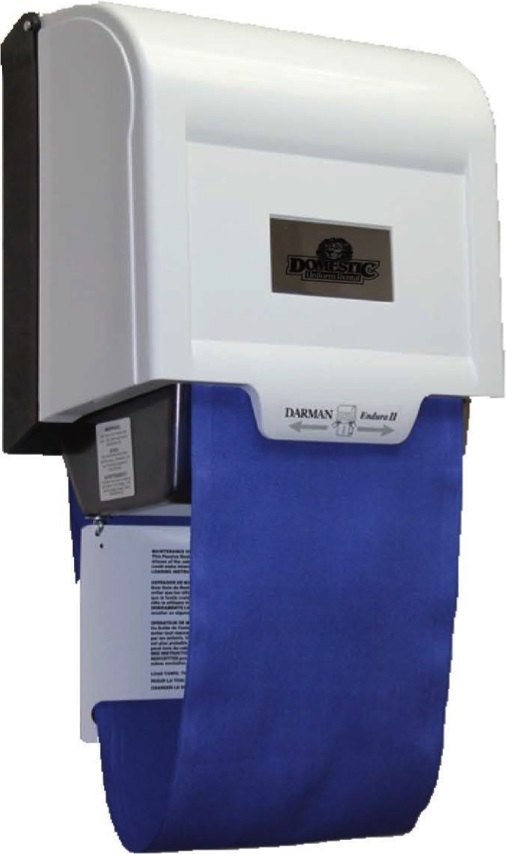 When dealing with sanitation issues, specifically hand drying, there are many available products ranging from air driers to cloth towel dispensers—each having certain advantages and disadvantages. Though air driers are seemingly quick and easy to use, there are also various downsides that accompany this convenience. What many customers do not realize is that the upfront costs of purchasing and installing an air drying unit are staggering. When one takes into consideration the additional costs of maintenance as well as the extra electricity needed to power these units the cost-inefficiency becomes even more evident.
Along with costs regarding the installation and maintenance of the unit, one must also be aware that time spent per employee during hand drying adds up. The average time an employee spends utilizing air driers during a given year is around 5 hours. That is valuable time that could be spent accomplishing other tasks, thus indirectly hurting your business. With regular towel servicing from Domestic Uniform Rental, all you will have to worry about is placing an order for your unit; we will handle the rest.
Above all else, the level of sanitation in air drier units is mediocre at best. These units take unsanitary bathroom air and recycle it onto your employees' freshly washed hands, bringing any germs and bacteria with it and yielding a less sanitary workplace. On top of the issue with unsanitary air being recycled, these air drier units also fail to remove any remaining bacteria or germs after one's hands are washed. In comparison, the towels utilized in the Darman Endura II Cloth Roll Towel System are not only sanitary right off of the roll, but they also remove any of the remaining bacteria on an employee's hands after washing.
If you are interested in adding this product to your order or if you would like further information, please contact your local Domestic Uniform Rental office.