Automotive – Body Shops – Dealerships
Body shops, oil change, and mechanic shops can be a dirty, grimy, business, but that doesn't mean your team can't look sharp and be comfortable. We have a wide selection of garments for all automotive industries.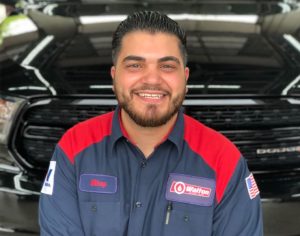 Week after week your team will look neat, clean and ready to take on any job.  We press and inspect each garment for cleanliness, finish, mending and repairs.  Let Domestic help keep your employees looking great, and your facility clean with our wide range of mops, mats, towels and restroom services.
We offer Dealer Image Apparel for the following companies: Audi, Ford, GMC, Honda, Hyundai, Lexus, Mopar, Mazda, Nissan, Subaru, Toyota, Volkswagen, and Volvo. Let us show you the Domestic Difference.